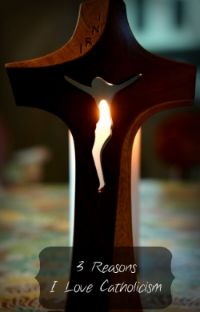 1.
Patron Saints
You've got a boil or backache or cancer or lost your keys or have a sick goat or need to find employment or sell a house....there's a patron saint for that. Always nice to have friends in high places interceding for you before the throne of God.
2.

Mary
The greatest Saint of All...the Blessed Mother.
Mothers are so important, May is the month of mothers and Mother Mary is the greatest mother of all. She was entrusted with the task of carrying and raising Jesus. His human DNA is from her, for crying out loud, so she must be a pretty important person. And, from the cross, Jesus made her our mother too. We can always go to the Blessed Mother and she always brings us closer to Christ.
3.
Prayer...I love me some nice, beautiful, already written, ready-made prayers. If I don't know what to pray, the Our Father, Hail Mary and Glory Be's all good standbys...not to mention the St. Michael's Prayer, Guardian Angel Prayer, Memore, Chaplet of Divine Mercy..I could go on and on. And, while praying in your own words is wonderful, I love praying the old, familiar prayers. And, when all else fails..you can always throw out a novena...I'm the queen of novenas during times of stress.
So, those are this month's three reasons...you can see last month's three reasons
here.
and go see
Micaela
for even more reasons.