1.
Sacramentals
Especially holy water...it's just good stuff to have around...to bless ourselves, to bless our children, to bless our mini-van should she decide break down.
2.
The Memorare
It's just such a beautiful prayer and reminds me how I always run to my earthly mother whenever I have a problem...and we can also always run to our Heavenly Mother with any problems or worries.
Remember, O most gracious Virgin Mary, that never was it known that anyone who fled to thy protection, implored thy help, or sought thine intercession was left unaided.

Inspired by this confidence, I fly unto thee, O Virgin of virgins, my mother; to thee do I come, before thee I stand, sinful and sorrowful. O Mother of the Word Incarnate, despise not my petitions, but in thy mercy hear and answer me.

Amen.
3.
Big Catholic Families
Going along with my wildly, somewhat, a teeny, tiny bit popular NFP post from yesterday, I love how Catholicism tends to produce some big families...they are super fun to hang out with. Small Catholic families are good too...all families are good. I love the emphasis on the family that Catholicism has.
4.
And..now TOTALLY switching gears...because I'm crunchy and actually do make my own granola.

This recipe for stovetop cinnamon granola. It's super easy, and because it's made on the stove, you don't need to worry about burning in the oven. Not that I ever burn anything mind you (says the woman who uses the smoke detector as a dinner bell).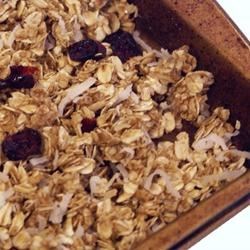 5.
And, switching over to yet another vein.
Classic, comfy, flattering and you can wear it anywhere, if pregnant, not-pregnant, post-partum, not post-partum, dress it up, dress it down..it always works.
And, that's all she wrote.