Happy Mother's Day to all mothers....whether you are a mother by birth, adoption, foster parenting, spiritual motherhood or just hoping, waiting and praying to be a mother.
My mother is a very unique person. She is probably the most busy, type-A, unselfish, generous person I know. She is always doing something.....and usually someone to help someone else. She never takes time for herself. If she comes over my house for a visit, she'll clean the bathroom, cook meals, organize the kitchen cabinets and help Greta with her spelling. I love it!
She has a whole bunch of published books that you should read.
She always stands up for what is right and doesn't care what other people think. I remember one memorable incident when I was in high school where she made the local news because she was protesting the placement of "racy" magazines at the checkout line at one particular grocery store. My parents boycotted that store for like 20 years.
She always takes the time to talk to someone who needs help and to help those in need. She is always super hospitable in a very humble way, always willing to host a meeting or feed someone dinner, even though our house was very simple and humble. She never worried if the furniture didn't match or the everything wasn't "perfect", she had people over anyway.
And, she was/is a really good mother. She stayed home with us. She nursed all her kids past 2 years of age and made us eat our vegetables..way before it was the cool. She never let us cry in the night as babies (and even not as babies, I remember one night, she slept on the floor in my room when I was in 8th grade, because I was FREAKED OUT after a CCD class about the occult. I guess they were trying to warn kids about the dangers of it, but it freaked me out totally. I was so freaked out, she actually stayed in my room that night, on the floor. THAT is love and sacrifice). She was gentle in her discipline and extended us a lot of grace. She gave us freedom to be ourselves and encouraged us in our interests.
Happy Mother's Day, Mom. I love you!
Now, for some questions from Kendra.
Bacon-wrapped chicken. Some sort of potatoes and roasted kale and zucchini. Plus, cheesecake and ice cream. Yum!!
2. What's the last thing you borrowed from someone?
3. What is your favorite prayer?
4. What is the oldest thing in your house?
My wedding dress, which both my mom AND my grandmother wore. Which means it's from the 1940's! I don't think we have anything older than that here.
5. What's the best concert you ever attended?
I don't think I've ever actually attended any concerts. Sad..I know. I'm not really into the concert scene. I might have gone to something at a church once, but I really don't remember.
6. Do you have a nickname?
Not really. When I was in college, a bunch of my friends from the Newman Center called me "Meals" which I kinda liked. And, this one guy I knew in 4-H used to call me "Am-el-lee-ah"...a weird pronunciation of "Amelia" but he was the only one who did that.
I never had any wide-spread nicknames and heaven help the person who tries to call me "Amy" or "Molly" or anything like that. No, thank you!
And here's what I wore today. Notice the chocolate and wine....just what I wanted., thanks to my wonderful husband.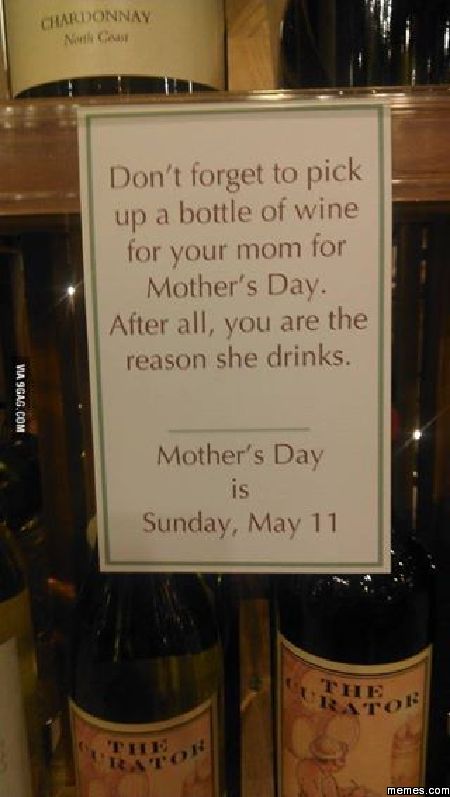 I thought this was funny. Although I only drink very rarely...but I didn't drink at all before I had kids. LOL
That is actually the 2nd bottle of wine. The first one, was emptied of its contents in about 3 seconds (sadly, not because we drank it, but because it got dropped and broke...at least it broke outside and not inside).
And that shirt is actually black an white striped...not blue. I have no idea why it looks so blue in the picture, but whatever.
Go visit FLAP for more Mother's Day Outfits.